The Reebok Freestyle Hi is perhaps the most iconic and recognisable style from the brand, other than the Classic. Think Jane Fonda, think step classes and aerobic workouts, think mom jeans and massive hair – these kicks are 80s gold, and now the Reebok Freestyle Hi is back on the scene and better than ever.
Gals. The Freestyle is a shoe that you should know about and that you should really have in your collection. Reebok were pushing the boundaries with this shoe, being the first sneaker specifically designed for and marketed towards women. Girl Power right?! Launched in 1982, it's no wonder that the Freestyle became pretty much synonymous with the work-out crazes of the time. Forget HIIT training and Kettlebells, we're talking donning your brightest leotard and leg-warmers and hitting up aerobics or 'Jazzercise'. Of course, the reebok freestyle also transcended into the fashion scene to become the ultimate partner to Mom jeans.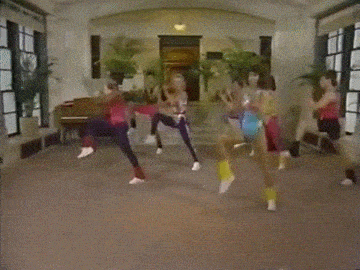 Work it!
So, like all things come around again (Mom Jeans have been back on the scene for a while – cheers Topshop), it was only a matter of time till we saw the Freestyle again. Yes, they've been worn by the hipster arty types – paired with over-sized sports branded sweatshirts and hair scrunchies, but now – the Freestyle Hi 35 has landed with a 'FASHION' make-over update. It's all down to a cool collab with Swedish make-up gurus, FACE Stockholm (you can find out more about the pairing in our earlier post).
It's a classic Reebok-FACE project – make-up inspiration to make cool shoes even better. We've got four amazing colour-ways all derived from FACE Stockholm's natural make-up and nail polish colours. While this update maintains the iconic silhouette of the Freestyle, colours inspired by natural tones give the collection a super-luxe feel. Don't go popping leg warmers on top of these – they're the main attraction. You can still match them with Mom Jeans though – opt for a frayed, cropped or detailed hem to draw attention to these beauties
So, you can take it from us that the Reebok Freestyle Hi is officially cool again – and you certainly don't need to be wearing fluoro pink and dancing to 'Let's Get Physical' to wear them. Now all you need to do is decide which colour you want (or just get all four). Shop the pack here.